Weather Radar & Forecast
1.9.3
Weather Forecast – Get Real-Time Weather Updates
Weather Radar & Forecast is a useful app which provides you a comprehensive look at the weather at the current moment in your area as well as a forecast for the whole week. Do you like knowing about the weather in advance? Would you like to receive instant weather updates on your phone? If yes, then this weather forecast app is exactly what you need. It will offer a detailed analysis of the weather conditions currently prevailing in your area. Moreover, this app will also provide a forecast of the weather that is likely to remain in your city in the coming days. Weather Radar & Forecast has a modern user interface and beautiful graphics which makes viewing this app a visual treat.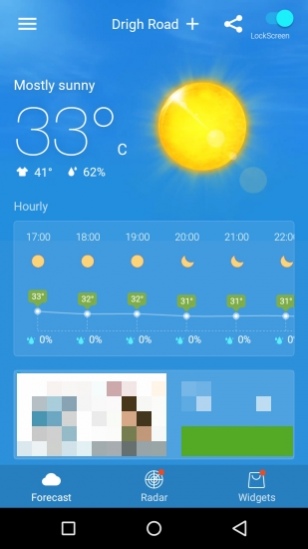 Weather Radar & Forecast has three tabs located on the bottom bar of the screen which includes Forecast, Radar and Widgets. The Forecast tab provides a forecast of the weather conditions in the area or city of your choice. This weather forecast app utilizes the GPS of your phone to pinpoint your exact location and then displays the current weather there. You can add another city into the app by clicking the + icon that is present right next to your current location on the top bar of the screen. Apart from the current temperature, you will find details about humidity and the highest temperature throughout the day as well. In addition to this, an hourly forecast of the weather is also displayed for your convenience.
The Radar tab of Weather Radar & Forecast gives you a look at a weather map of your selected city. It offers a wide range of weather details for you to check. These weather details include wind, temperature, pressure, rain, snow, clouds, wind gusts, low clouds, waves, swell, wind waves and currents. You can select each of these weather aspects by clicking the option located on the top-left corner of the screen. There is a zoom tool also provided on the top-right corner of the screen which can be used for zooming in and out of the map. A colored key is provided on the right-hand side of the screen which helps you in understanding the weather map in a better manner.
Weather Radar & Forecast offers various widgets as well to place on your phone's home screen. These widgets can be located in the Widgets tab. You will have to download the widget and then enable it from the widgets menu of your phone. You will find options for Lockscreen wallpapers in the Widgets section of this weather forecast app too. There is a wide range of wallpapers available to you that are organized into various categories. These wallpapers will become a part of your phone's lockscreen and will provide weather updates to you even when your phone screen is locked.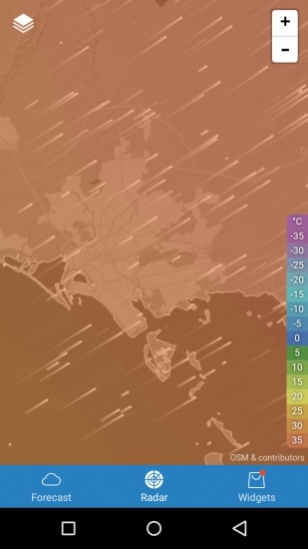 Weather Radar & Forecast provides a notification feature to you as well that can be activated from the Notifications menu in the Widgets section of the app. There are multiple notification styles available and you can pick any one of them to grace your notification tab with.
Features:
Modern user interface
Beautiful graphics
Accurate and real-time weather updates
Weather forecast for 9 days
Hourly weather forecasts
Radar maps that give information about weather conditions
Lots of weather information
Weather lockscreen
Various weather widgets
Numerous lockscreen wallpapers to choose from
Conclusion:
Weather Radar & Forecast is an app aimed towards people who want to remain updated about the weather outside. It provides a detailed account of the weather not only in your own area but also in cities around the world. The accurate weather updates that this app offers make it a must-have for everyone.
---
Add a review
Tell us your experience with
Weather Radar & Forecast
1.9.3
RELATED PROGRAMS
Our Recommendations
---
---
---
---